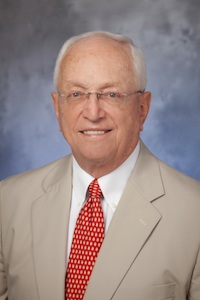 Founder and Chairman Emeritus.
In December of 1972 Lorenz T. Bannes and Joseph F. Shaughnessy left their positions at a respected St. Louis general contractor to form Bannes-Shaughnessy, Incorporated. The company grew slowly but steadily, quietly building a reputation for quality and integrity, and for the ability to deliver unique building projects. After a successful sixteen year run at Bannes-Shaughnessy, Bannes sold his stock to Joe Shaughnessy who then became sole owner of the company. To signal the change in the ownership structure, while retaining the same identity, the company was renamed BSI Constructors. Later in 1989, Joe Shaughnessy's two oldest sons, Paul and Jim, joined the company. The company is still owned by the Shaughnessy Family, with Paul and Jim as primary shareholders.
Some key milestones for the company:
1972 – Bannes-Shaughnessy, Inc. is founded on December 18.

1976 – Awarded first $1 million project for Hazelwood Central Senior High School.

1981 – Awarded first $5 million project, the Roosevelt Savings Headquarters in Chesterfield, Mo.

1987 – Company completes work on its current corporate headquarters at 6767 Southwest Avenue, which features 30,000 sf of office space and a 10,000 sf warehouse on 3.3 acres in southwest St. Louis.

1987 – Awarded first $10 million project, the Washington University Medical Library.

1989 – Joe Shaughnessy executes stock repurchase to become sole owner. Company is renamed "BSI Constructors, Inc." Paul & Jim Shaughnessy join BSI as project managers.

1990 – Awarded first $20 million project, McDonnell Hall for Washington University.

1995 – Awarded its first $35 million project, "E" Building for A.G. Edwards.

2000 – Paul Shaughnessy is named President and Chief Executive Officer of BSI, with Joe Shaughnessy remaining Chairman.

2000 – Awarded its first $150 million project, "F" Building & Learning Center for A.G. Edwards.

2007 – BSI celebrates its 35th Anniversary with corporate friends and associates over two nights of open houses at its newly renovated home office.

2012 – BSI celebrates its 40th Anniversary inviting back Co-founder Lorry Bannes, and key team from the early years including: Carl Cooper, Sherwood Hughes, and Bernie Duda.

2016 – Joe Shaughnessy transitions to Emeritus status, with plans to continue supporting and promoting BSI.
Leadership Team
Executive Vice President and COO
BSI operates according to a very flat hierarchical structure. For a company that excels at larger projects, we have an absolute minimum of management layers. Our ownership team stays very close to all BSI projects. The basic BSI project operating unit includes a project manager and superintendent, with ongoing oversight provided by one of three BSI Project Executives. Larger projects will necessarily have larger assigned staffs, but the basic lines of responsibility and communication remain the same.
Delivery Methods
Lump Sum Bidding
When we started business in 1972, most of our work came to us through lump sum bidding. As a new company with relatively few long term relationships, the best we could hope for was the opportunity to provide a bid to a prospective client. While it was usually our low bid price that gave us the opportunity to perform a project, it was our commitment to service and schedule often allowed us to develop lasting relationships. Today more than 75% of our work is obtained through means other than competitive bidding. But with our determination to keep our "hard bid edge," we continue to seek bidding opportunities and welcome the chance to be on a select bid list for a good client.
Negotiated General Contract
The Negotiated General Contract offers the construction buyer several benefits not inherent to the competitive bidding process:
Buyer is assured of working with their preferred general contractor.

Contractor input (value engineering & constructability analysis) early in the design process helps ensure cost-effective design solutions to the client's needs.

Detailed document review during design helps minimize changes after bids are taken.

Predetermined fee percentage and open book project accounting serve to align interests of both the owner and contractor, while maintaining competitive bidding at the subcontractor and supplier level.

Potential for schedule acceleration through early ordering of long lead items, and development of early bid packages prior to overall completion of design.
Construction Management (as Constructor)
The BSI approach to Construction Management is very similar to the Negotiated General Contract method outlined above. Other than the name, the buyer will notice very little difference between the two approaches. Under this approach, BSI fulfills the role of both Construction Manager and General Contractor so there is no duplication of oversight and associated fees.
Construction Management (as Agent)
In certain circumstances, such as public work performed under state approved procurement procedures, the construction buyer is required to be the party of contract for all trade contracts. BSI has performed successful projects under this scenario for clients such as the St. Louis Public Library, Southeast Missouri State University, Great Rivers Greenway, and the St. Louis Public School district. While complying with applicable regulations can be a little more burdensome in this scenario, BSI has demonstrated an ability to maintain firm management control over the process and eliminate any duplication of contracting fees.
Design Build
In all of our negotiated general contract and construction management projects, we strive to achieve a high level of teamwork with the design team. Sometimes, the client wants BSI to be the primary point of contact on the project and control the entire process including the design. In those cases, we align ourselves with one or more of our strategic design partners to provide the client with a turnkey design build solution. The Design Build process lets us pick the right designer for the particular project and provide a "one stop shop" for project delivery. And BSI's strong insurance program includes contingent design liability to ensure maximum protection to the client on both the construction and design side.